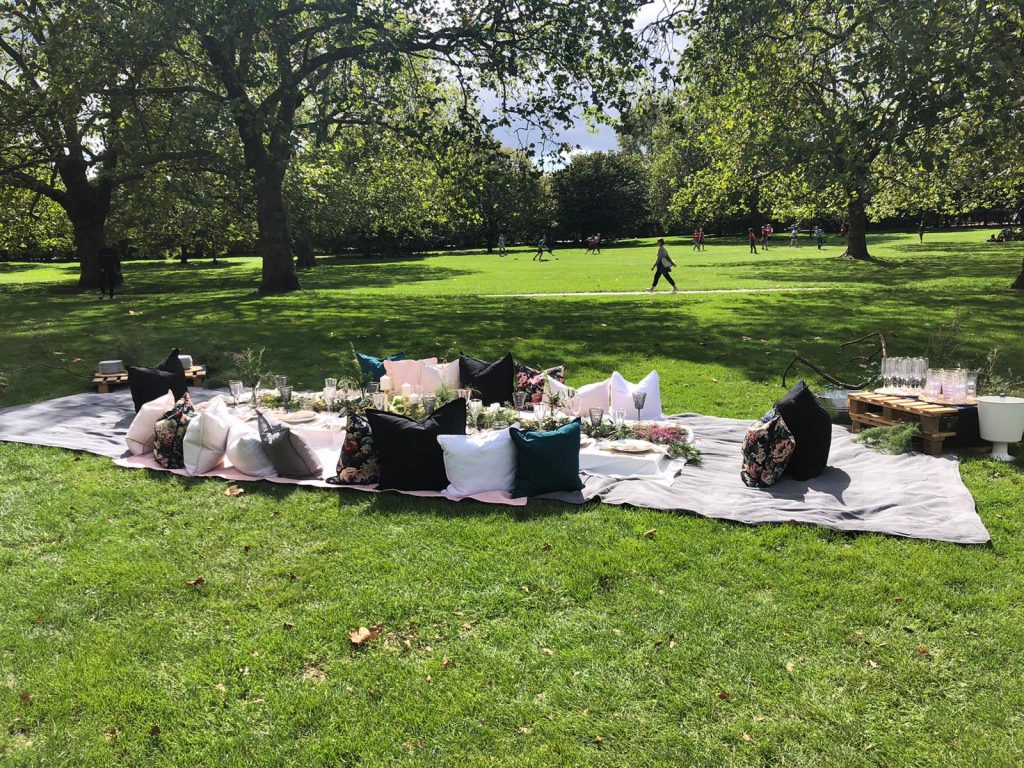 The past year has been especially tough on those trying to organise a wedding, from constantly changing restrictions to travel bans to a lack of venue availability, it really can seem like an uphill battle at times.

But with new restrictions coming into place and the weather warming up, we are so optimistic about all the beautiful wedding picnics we already have in the diary and are very much looking forward to helping future clients plan their dream day.

We have three offerings that can perfectly suit anyone thinking about a wedding picnic for their special day…

Our Formal Picnic Setup which includes everything you might need or want on the day – picnic tables, blankets, cushions, table decor and place settings for each guest, crockery, cutlery, glassware, ice cold drinks, delicious food and music to create the perfect atmosphere.

Our Casual Picnic Setup is just as breath-taking just minus all the formalities at the table itself.

And of course, if you are happy to handle the setup yourself, you can always order a selection of our scrumptious picnic boxes…

For a more detailed quote or an informal chat about your wedding plans, feel free to give us a call or email us.
Here are a 7 things to consider when planning your picnic wedding in a park:
Location – Make sure you choose a picnic spot that is accessible for all your guests.
Time – Unlike other venues, parks may have specific open and close times, so make sure you check these. You may also need to factor in some shade if it is a very sunny day or rain cover in case the weather takes a turn for the worst.
Licenses – It is worth checking with the local council or park to ensure they allow weddings, especially if you plan to have the ceremony in the park. Not all venues are licensed for marriages.
Seating – Your guests will need somewhere to sit and relax during the day, ensure you have enough blankets, cushions or chairs and tables to make everyone comfortable.
Food & Drinks – Ensure you have plenty of ice cold drinks (don't forget water) and delicious food that won't be ruined by the elements.
Atmosphere – Remember to plan some entertainment for your guests, whether that is a bluetooth speaker to play your favourite songs (remember to have this fully charged) or some garden games that will create a fun and happy atmosphere.
Setup and clean-up – Ensure you have a setup and clean-up plan in place as there is likely to be a lot of rubbish that accumulates during the day, especially from a big group.